Ask a Money Expert
MSN kicks off a new Facebook video series
Have a burning personal finance or investing question, but no experts on hand to ask it to? Today, MSN Money is launching a new video series called "Ask a Money Expert" that is giving our readers a forum for asking advice of our top writers and columnists.
First up, Jim Jubak, a money manager, MSN Money columnist and stock-picking guru. He answers readers' questions on the outlook for the market as well as specific stocks, including General Electric (GE) and Visa (V). Next week, we'll feature Anthony Mirhaydari, another MSN investing columnist, answering your questions about which direction stocks are heading next. In upcoming weeks, our personal finance columnists Liz Weston and Donna Freedman, will answer your questions about topics like getting out of debt and choosing a credit card.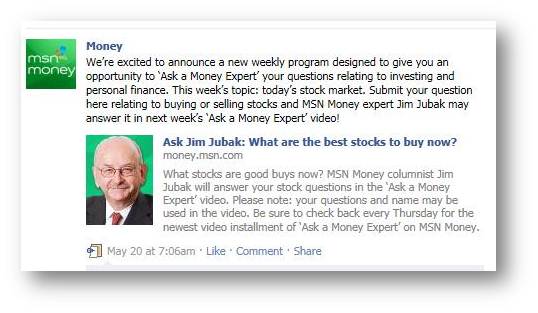 MSN Money has an active community on Facebook and we're soliciting questions there as well as on MSN Money. Visit our Facebook page today to check out the video or watch it here ­. Then, Friday, we'll post again to invite you to ask Anthony Mirhaydari your questions about the market.
Amey Stone
Senior Editor, MSN Money