Know. Now. : MSN for Windows 8 Arrives this Week
Designed specifically for Windows 8 and Internet Explorer 10
Windows 8 arrives this week!
Starting today, people running Windows 8 can experience MSN in a brand new way.  Designed exclusively for Windows 8, the all new MSN experience will be the first thing you discover when you launch Internet Explorer 10. The new MSN gives you a place where you can be informed, explore and let your curiosity reign. At first glance, you will notice MSN looks different. The new MSN experience is clean, simple and built for touch. Whether you're following your favorite sports team or breaking news, the experience is intuitive and consistent. The content flows from the homepage to channels without interrupting the visual layout, and you'll know what stories are most important, just by viewing the size of the story tile.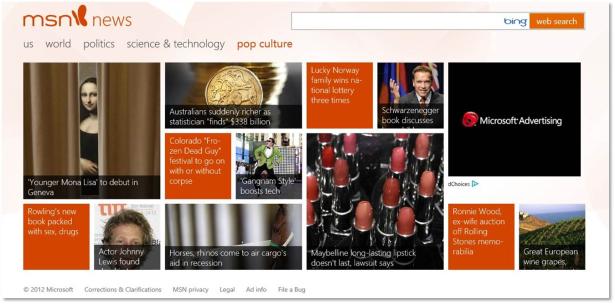 The new MSN experience for Windows 8 is fast. Because Internet Explorer 10 was designed to take advantage of the system architecture of Windows 8, rendering complex page layouts and high resolution images is faster and more fluid.  Now you can easily view images, slideshows and videos, without compromising the overall experience. The result is a cleaner more "app-like" experience that allows you use the Flip Ahead feature to swiftly jump from article to article with a simple gesture. As before, MSN for Windows 8 brings you trusted, world-class news from a variety of sources, including new content relationships with the Associated Press and Reuters.  
Give it a try and let us know what you think.

-          Bob Visse, General Manager, MSN