Win Big with MSN Trivia Experience
MSN Trivia Experience tours US
Do you consider yourself "
in the know
" around current events? Here's your chance to prove it. The
MSN Trivia
experience launched this week, offering a whole new level of challenge to news fanatics and trivia speedsters. Test the speed of your knowledge through a series of questions about the most current of current events. The faster you answer, the higher you score. And if you get stumped, you can always jump to MSN.com to find the answers. You'll have to think fast, and if you're among the quickest minds in the country, you could win a Microsoft Surface RT!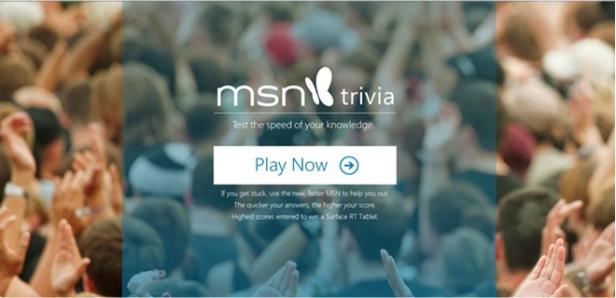 Starting Friday, May 31, the MSN Trivia mobile is taking the challenge to the road. Play MSN Trivia against your friends in the following cities and locations: 
Los Angeles
5/31 – Hollywood Blvd & N Las Palmas Ave

6/1 – Santa Monica Pier

6/2 – Westfield Century City Mall
San Francisco
6/7 – Union Square / Geary & Powell

6/8 – Market Street between Powell & Stockton

6/9 – Pier 39 at Fisherman's Wharf
Bellevue
6/14 –Downtown Bellevue, WA (near Lincoln Square)
Follow the adventures with @KnowMSN on Twitter, and find the truck for a chance to win great prizes at every stop on the tour. Are you in the know? Prove it with MSN Trivia.
- The MSN Team