msnNOW Arrives Today: Know About It
Keep up on the latest buzz on Facebook, Twitter, Bing and breaking trends from across the Web at now.msn.com
Today we're launching msnNOW, MSN's new service focused on keeping you in the know. msnNOW, available at now.msn.com, makes it easy to stay up to date on the things people are talking about, searching for and sharing the most. We scour the most interesting trends from real-time sources like Facebook, Twitter, Bing, and BreakingNews.com, so you'll always know what's happening and get the jump on what everyone is talking about. When we see a hot social conversation or emerging trend, our expert editors provide key insights on why it's trending, if it's true, what people are saying about it and where to find out more.
With msnNOW you'll be the most informed of your friends about what's happening across the Web – whether it's celebrities, a sporting event, the latest tech news, or a political race.
msnNOW
In a hundred words or less, we summarize trends, arming you with what you need to know about the topics you want to talk about with your friends. On msnNOW, you will see icons from Facebook, Twitter, Bing and BreakingNews, which indicate where each topic is trending. To see a quick snapshot of the latest trends that are blowing up in real time, check out the "Biggest Movers" Feature.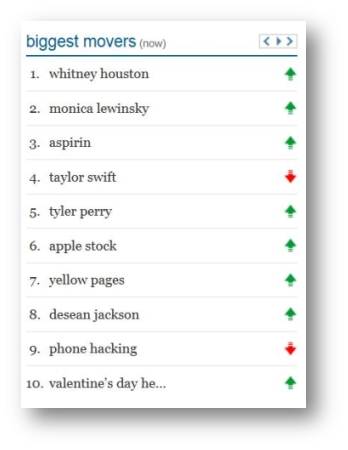 And, don't forget to build the buzz by clicking on the butterfly and sharing it yourself through a variety of options – including Facebook, Twitter and email. You can also easily sort through the trends that matter most to you in the topics sections by filtering them by areas of interest, including:
Fame: Drill down on celebrity gossip and entertainment reports.

Soul: Explore trends related to life – including love, beauty, kids, products and more.

Sweat: Check into the latest sports buzz.

Wire: Catch up on trends related to the day's big stories.

Cash: See what's hot in the world of money and big business.
Demand Dashboard: The Tool Behind NOW
Every moment of every day, people are searching, sharing, tweeting and posting content. With so much information available, it's hard for you to know what's trending and why; so every few minutes our newly developed "Demand Dashboard" looks back at the last 24 hours to tally, sort and analyze millions of Bing searches, public Facebook posts, tweets, shared URLs and breaking  news stories. It sifts through all the data and looks for patterns to emerge – detecting breaking trends as they happen, so you can easily find out what everyone will be talking about. We think that by applying this new technology, msnNow can deliver timely and socially relevant information so you can stay in the know.
Get msnNOW Everywhere
Because msnNOW is all about keeping you in the know, you can stay up-to-date wherever you are, by hopping on your PC, mobile phone, or tablet by going directly to now.msn.com.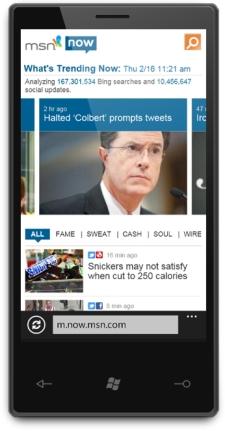 On Facebook, 'like' msnNOW to receive updates in your feed, or read the hottest trends with friends on the msnNOW Facebook Reader . Or, simply follow @msnNOW on Twitter. When you're reading www.msn.com, just look for headlines with a NOW bubble to see what trends and conversations are heating up on the Web. Check out what msnNOW host, Asha K., has to say about msnNOW.
Go to now.msn.com and click make msnNOW my homepage to ensure you're always up-to-speed on the latest and greatest.  To read more about the technology and people behind msnNOW, check out this article on Microsoft News Center.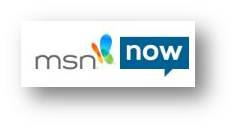 msnNOW is just the beginning of exciting changes at MSN.  Stay tuned!
- Bob Visse, General Manager, MSN
Mr. Bob Visse,
This is a nice idea for MSN. But why isn't it being made more visible, announced with greater fanfare?
I spend far too much time online
 a good portion of which includes time on Microsoft sites such as MSDN, Newsvine and MSNBC News. Yet I only found out about msnNOW because I was reading an article on the perfectly respectable but not exactly social OnWindows (site description is "
Enterprise technology on the Microsoft Windows platform")
about expansion of a Dublin, Ireland data center which is a very fine thing, but again, not social media material.
Microsoft has many wonderful products and services that hardly anyone even knows exist! I hope more people find out about this latest offering, and I look forward to exploring it. 
P.S. Bing maps are EXCELLENT!
P.P.S. I love your emoticon assortment. The sheep are so cute!!! I've never seen them anywhere else but here. Maybe you could include them and some of the other festive emoticons on additional Microsoft websites?  
Are you sure you want to delete this comment?