Fox Sports on MSN Mobile Launches Refreshed NFL and NCAA Football Mobile Web Experiences
Just in time for fall football
Just in time for football season, Fox Sports on MSN Mobile has updated the NFL and NCAA Football mobile web experiences.  Now when you visit Fox Sports NFL [link: http://extreme.mobil​e.msn.com/sports/nfl​ ] or NCAA Football [link: http://extreme.mobil​e.msn.com/sports/cfb​ ] on your mobile device (Windows Phone 7, iPhone/iPod touch or Android 2.x or higher), you'll see newly designed main pages, sports headlines, photo galleries (with full-screen slideshows) and our easy-to-navigate video page.
On the main NFL or NCAA Football pages, we've made navigation easier – view the top headlines or swipe down to get scores & schedules, latest news, recent videos and photos. Navigation feels natural on your smartphone and you're just a tap away from a great multimedia sports experience.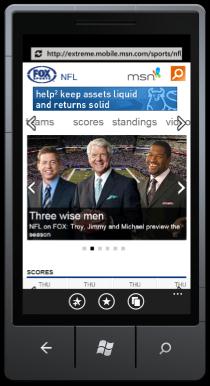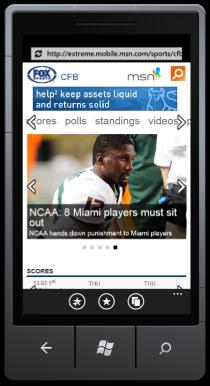 Our photo galleries have been updated. You can quickly swipe through our galleries and once you tap on a thumbnail, you'll be in the full-screen slideshow view. Just tap or swipe to view photos of your favorite players or teams, pulled from our extensive football photo library.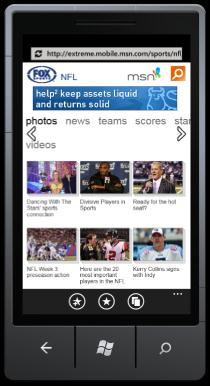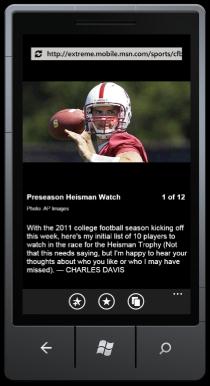 If you're a regular Fox Sports on MSN user, rest assured that the teams you've added under "My Teams" are still available, along with complete NFL and NCAA Football scoreboards, league standings and GameTrax – our play-by-play, live game update feature.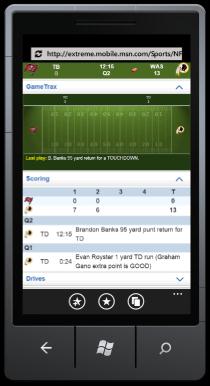 Whether you're at the game, watching at home, keep up your favorite NFL or college football team by visiting the updated NFL (http://extreme.mobil​e.msn.com/sports/nfl​) and  NCAA Football (http://extreme.mobil​e.msn.com/sports/cfb​) mobile web sites on Fox Sports on MSN!
Please leave a comment and let us know what you think!
Lee Givens
MSN Mobile

I found much useful stuff in your website especially its discussion.
I see something truly special in this website. Such smart work and reporting; carry on the superb works guys!
Really I don't suppose I've read anything like this before. Good to find anybody with original thoughts on this subject 
Cheers 
Sumon Rahman
Are you sure you want to delete this comment?