Break out the brackets, March Madness is here!
Play the Fox Bracket Challenge on MSN for a chance at $1 million
Beginning March 15, 68 teams will hit the court to kick-off the NCAA men's basketball tournament.  For fans across the country who are sizing the match-ups, predicting the winners, putting money in the pot and filling out their brackets – MSN has something for you! The $1 million Fox Bracket Challenge on MSN is back again this year, and is free to play here.  Simply sign up, make your picks and without spending a dime you could win the $1 million grand prize for a perfect bracket, or other prizes including 60" flat-screen TVs and a trip to Las Vegas.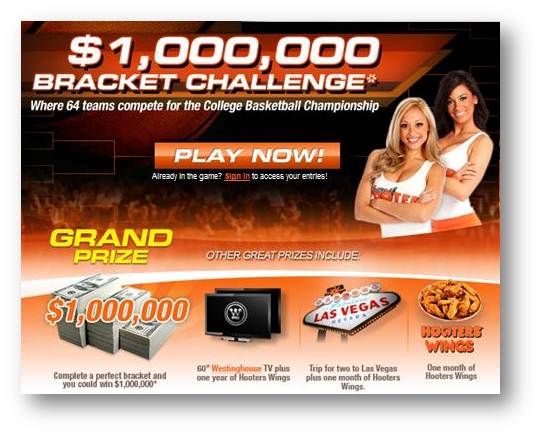 As we head into the tournament, we also thought it would be interesting to gauge how everyday people are approaching this year's tournament.  Are people more or less likely to bet on the games in these tough economic times? Are men or women more dedicated fans?  How many hours of work will be lost to the tournament? Which celebrity would people most like to watch the games with?
We ran a survey to find out. Here's what you said:
People are in a betting mood
People are looking to wager on the tournament.  85% of those surveyed say news of an improving economy will lead them to gamble on the tournament with at least as much money as last year- if not more.

This is a drastic increase compared to 2009 when only 37% of respondents said they planned to participate in some form of betting or pool.

Even with the positive economic signs, 35% of those surveyed still believe their March Madness betting will outperform their 401k this year.  
Productivity down during March Madness
It's no secret March Madness has invaded the workplace. An astounding 81% of respondents said they plan to devote at least some time during the work day to following games, scores and updates. 

60% say this will spend at least one hour of work during the first two days of the tournament (Thursday and Friday) watching games or following scores, with 18% saying they will do the same for at least five hours.
Women are mad for basketball
27% of women plan to fill out 3 or more brackets, compared to 21% of men.
There are twice as many woman who plan to fill out 4 or more brackets than men. (17% vs. 9%)
Women are almost equally as likely (56%) to talk to their coworkers about their bracket as men (59%)
Celebrity super fan
When given a choice of sitting alongside celeb March Madness fans Kim Kardashian, Charlie Sheen, Heidi Klum, Ashley Judd or "Ashton and Demi", the majority of respondents stated a preference for sharing courtside seats with Ashley Judd. 
41% of women say they'd want to sit with Judd at a March Madness game, compared with 9% for Kim Kardashian.
Good luck!
- The MSN Team