Stay in the Know on the Go with MSN!
MSN® Video for Windows® Phone 7 App and MSN Lifestyle Mobile Offerings Available Today
To keep you in the know while you're on the go, MSN is rolling out two releases for mobile users.
Starting today, MSN Video for Windows Phone 7 is available for free, offering a huge selection of videos covering entertainment, news, sports, comedy, "how-to" and other popular categories. In addition, MSN Mobile users will now have a new offering to explore. Mobile MSN Lifestyle offers great articles and slideshows from top brands such as Cosmopolitan, Esquire, InStyle, Redbook, Marie Claire, Good Housekeeping and more all optimized for the iPhone, Android and Windows Phone 7.
MSN Video for Windows Phone 7
Available for download today, MSN Video for Windows Phone 7 lets you watch videos from special events, like the Academy Awards® and Super Bowl, as well as your favorite MSN Original programs, like "Last Night on TV" and "Beauty BFF".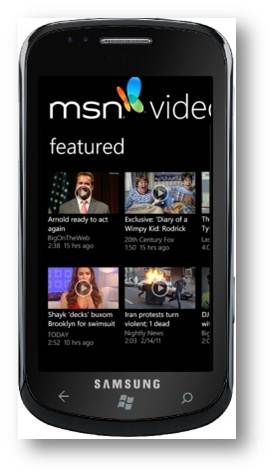 Whether you want to watch (or re-watch) the great play from last night's game, or you're looking for something funny to kill time while you wait in line, you'll find it with MSN Video for Windows Phone 7.
You can enjoy videos in full screen.  We give you the option to watch in high quality (HQ) for better resolution or turn off HQ for faster streaming. MSN Video is integrated with the Windows Phone 7 video + music hub so you can easily look in your history to find videos you've already watched.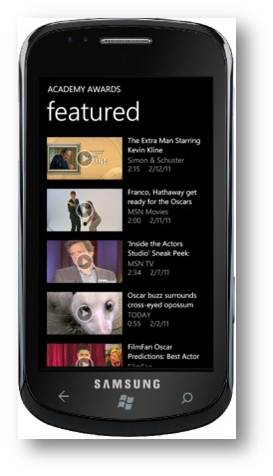 Use search to find exactly what you are looking for, or browse videos from over 40 world-class providers, including: Access Hollywood, Animal Planet, CNBC, Consumer Reports, Discovery, FOX Sports, HealthDay, Howcast, Kiplinger's, MSNBC, Stupid Videos, TODAY and more.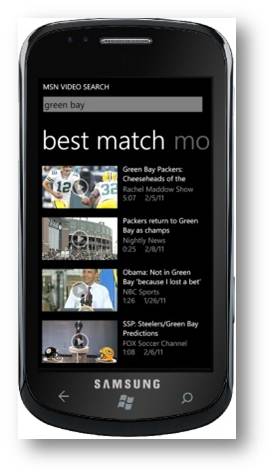 The ad funded MSN Video app is free allowing people to connect with their favorite brands in a more immersive and engaging manner while on the go.  MSN Video gives advertisers of all sizes an opportunity to engage their target audiences with two highly effective ad experiences: pre-roll video ad units (e.g. 10 to 30 second pre-roll video ad) and mobile display banner ad (e.g. 480 x 80).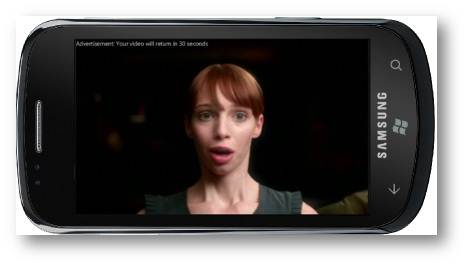 Screenshot of pre-roll video ad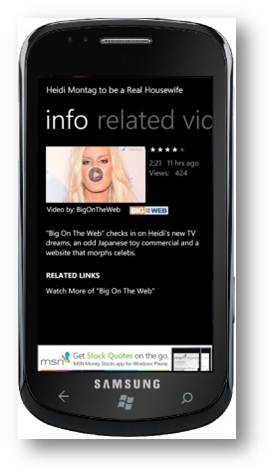 Screenshot of banner ad
Go to the Music & Video section of the Zune Marketplace or click http://social.zune.n​et/redirect?type=pho​neApp&id=0263db89-46​35-e011-854c-00237de​2db9e and download.
MSN Lifestyle Comes to Your Smartphone
MSN Mobile users can now explore articles and slideshows from top brands such as Cosmopolitan, Esquire, InStyle, Redbook, Marie Claire, Good Housekeeping using Mobile MSN Lifestyle on their iPhone, Android or Windows Phone 7.
Stay in the know with compelling beauty and fashion pieces (like "10 Celeb Looks to Steal") from the Fashion section. You'll find interesting Relationships tips within  the Love section (such as "9 Things You Don't Know About Kissing"), expert decorating and organizing insights in  the Décor section (like "Organizing Tips for Small Spaces"), and thought-provoking pieces in  the Living section (such as "The Stay-at-Home Husband").  Each of these categories are complemented with mobile-optimized Lifestyle videos for a compelling mobile experience.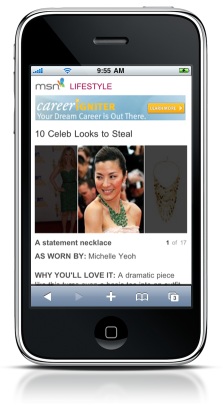 Mobile MSN Lifestyle is also ad funded, enabling advertisers to reach highly coveted audiences such as mobile savvy GenXers and affluent women as well as men. To drive consumer engagement and impact, Mobile MSN Lifestyle will feature mobile display ad banner at the top of articles, slideshows and category/department pages. For advertisers interested in delivering greater impact and reach across multiple screens, MSN Lifestyle will now be able to engage consumers together on their PCs and mobile devices.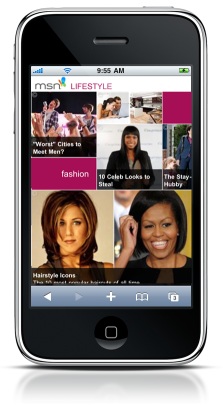 The fresh design of Mobile MSN Lifestyle leverages touch-screen technologies and gesture-rich controls and gives the MSN mobile audience a new way to explore MSN Lifestyle.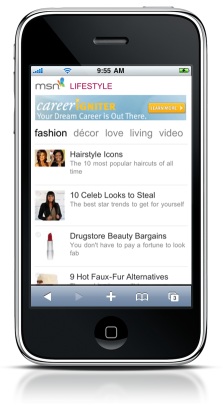 Whether you want to keep up with the latest fashion trends, enrich your relationships, give your space a mini-makeover or get expert tips on making the most of every day, visit http://mobile.msn.co​m your iPhone, Android or Windows Phone 7or come straight to http://extreme.mobil​e.msn.com/lifestyle and get the best of MSN Lifestyle on the go.
Eva Corets
Executive Producer, MSN Mobile
Are you sure you want to delete this comment?