Introducing Firefox with MSN
Stay in the know - get Firefox with MSN
Last year, we worked with Mozilla to add Bing as a search option that ships with Firefox. Since that time, you have asked us to make MSN even easier to access on Firefox.

So today we're teaming with Mozilla to release Firefox with MSN a version of the popular Web browser that includes default MSN settings. Now Firefox users who are interested in staying in the know can use Firefox with MSN without having to take extra steps to navigate or customize their settings to MSN.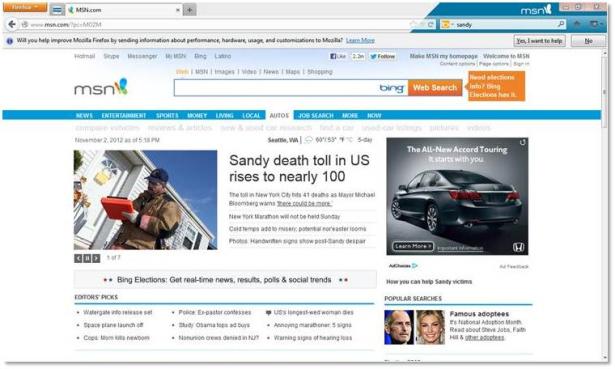 Firefox with MSN sets your home page as well as quick access to our most popular channels including MSN Now, MSN Living, MSN Sports, MSN Money and MSN Entertainment. If you already have the latest version of Firefox, then you just need to download the Add-on to set the same preferences.

You can download Firefox with MSN here starting today. We are excited to make it even easier for members of the Mozilla Firefox community to use MSN and Bing.

Please let us know what you think.

- Isabell Sheang, Senior Business Development and Strategy Manager