MSN and Spotify Team Up in Austin
The Spotify House presented by MSN will host free, live music with unexpected guests
As people from around the world converge on Austin to attend the famous music conference this week, we are pleased to offer folks a refuge – introducing The Spotify House Presented by MSN.  Spotify will be setting up home for a week-long series of artist sessions including an extra special  live show housed at a secret location on Thursday 15th March.
We're delighted to join Spotify in Austin at the Spotify House presented by MSN. MSN's global community is passionate about music and we're excited to align with Spotify to keep you in the know on music.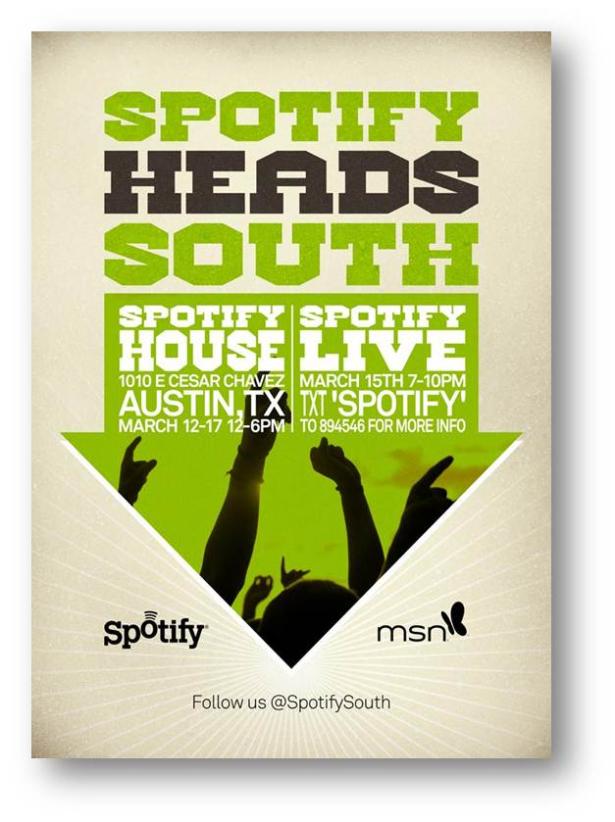 Visitors to the house will enjoy 'up close and personal' acoustic 'Spotify Sessions' from hot emerging acts, or simply kick back with a Bloody Mary and refuel at the taco truck. Spotify demo pods will offer the opportunity to trial the leading digital music service and enjoy, explore and share its millions of tracks.
On the evening of Thursday 15th March, Spotify will be hosting a secret show which will take place in a unique location in the heart of Austin, promising a killer line-up which is guaranteed to bring the city to a standstill.
The lineup of artists performing at the Spotify events will be revealed daily via SMS. Simply text 'Spotify' to 894546* any time to receive daily notifications about artist line-ups at The Spotify House presented by MSN and to be the first to find out details of the secret show. In addition, register on the RSVP Page for entry to the house and follow @SpotifySouth on Twitter.
Check out msnNOW, a new service from MSN, will help you stay in the know on music and connected to the action. msnNOW is the first service to surface the latest buzz from across Facebook, Twitter, Bing and BreakingNews.com, all in one place. Visit www.msnnow.com.
-          Eric Hadley, General Manager for Marketing for Bing and MSN
Are you sure you want to delete this comment?