Delish Serves Up an Original Web Series with Taste of Place
Chef Donald Link teams with MSN to celebrate the local foods and flavors across America
We're excited to announce the launch of a new original video series on Delish entitled Taste of Place, starring Chef Donald Link and featuring the foods and flavors of local producers across the country. Link, a James Beard Award-winning restaurateur from New Orleans, travels the country to find people who are connected to the land and waters that produce our food – small-scale ranchers and farmers, artisan bread makers, fishermen – people who understand, as Link puts it, that "place makes the taste." Besides profiling the people and products, Chef Link also cooks a meal inspired by the local ingredients and, in additional clips, demonstrates tips, techniques and recipes for home cooks to try for themselves.
Created by Donald Link and his producing partner Francis James, Taste of Place brings Chef Link's passion for cooking with fresh, local, seasonal ingredients to an online audience. The first cycle of episodes will run through April 2011 and will take viewers to multiple regions, including California's Sonoma Valley, Kentucky, West Virginia and Link's home state of Louisiana.
The series will be hosted on Delish and will be promoted throughout Delish, MSN, MSN Local and Bing Video. The Taste of Place site will allow viewers to access the recipes featured in the videos and many more recipes ideas, slideshows and articles from Delish. Local information on the featured producers and each regions attractions and eateries will be provided by MSN Local.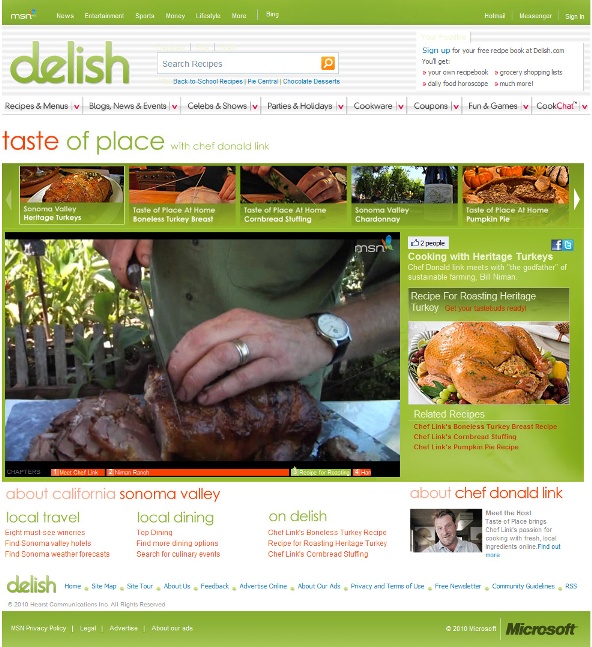 Chef Donald Link, chef/owner of New Orleans' restaurants Herbsaint and Cochon, has been named Chef of the Year by New Orleans Magazine as well as a Top 10 Chef by Forbes.com.  Herbsaint has been a fixture in the Times Picayune's Top 10 Restaurants since the list began.   In 2007, the world-renowned culinary organization, The James Beard Foundation, named Chef Link the: Best Chef: South and Cochon was nominated as Best New Restaurant.  Cochon later received more praise from the New York Times restaurant writer, Frank Bruni, who ranked Cochon in his top 10 new restaurants in the country.  Herbsaint has been ranked in the top 50 best restaurants in the country by Gourmet Magazine and both restaurants have received numerous accolades both locally and nationally
Dick Larimer, MSN Video
Are you sure you want to delete this comment?