MSN Introduces Streamlined Mobile Experience
Stay in the know, when you're on the go with upgraded MSN Mobile
MSN Mobile has been redesigned to keep you informed, engaged and entertained regardless of where you are. You can now check top news and entertainment stories more quickly when you're on the go with our latest release of MSN Mobile. Scan MSN videos, photo galleries and lifestyle content, right from the MSN Mobile home page. Need an umbrella? Want a stock quote? Curious about the score of tonight's game? Simply swipe down to see the updated modules. You can even find new apps.  MSN Mobile keeps you in the know, when you're on the go. Just type msn.com into your mobile browser to check it out.
Improved Navigation
Whether you're looking for the latest Hollywood news or want to watch that video your friend told you about, all you have to do is swipe or tap through the new navigation bar. The top MSN categories - news, sports, entertainment, lifestyle, videos, money and autos are easy to access on your phone.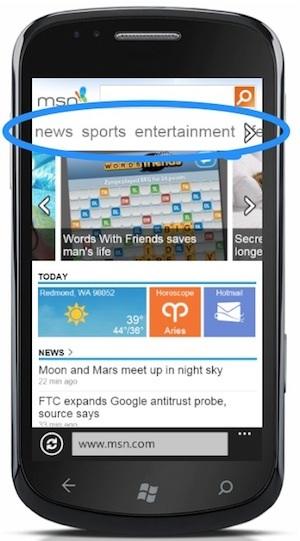 At a glance, you'll be able to see the top news stories, current weather or check out your horoscope. We'll also display the latest sports headlines and scores.  No more digging through menus or multiple screens.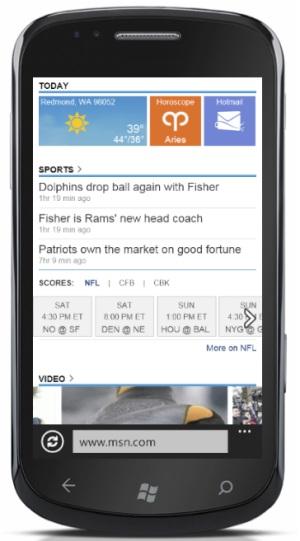 Watching Videos and Reading Articles
One of the best things about having a smartphone is the large screen. MSN Mobile has optimized our videos, articles and photo galleries to display nicely on your mobile device. Tap an article from our Entertainment or Lifestyle channels and we'll display the mobile optimized version. Videos will play in both portrait and landscape. Want a larger view? Just hold your phone sideways to get the full picture.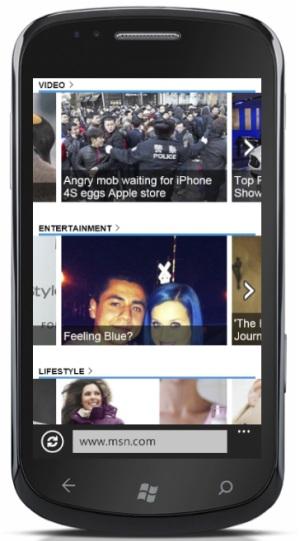 Money and Quotes
Wondering how your 401(k) is doing or if the Dow or NASDAQ is up or down? Just scroll down to the new Money & Quotes section and you'll see the top market indices displayed in-line with the news. To the right of the S&P index, you'll see a new button that will allow you to add your own stocks and track them right on MSN Mobile's home screen.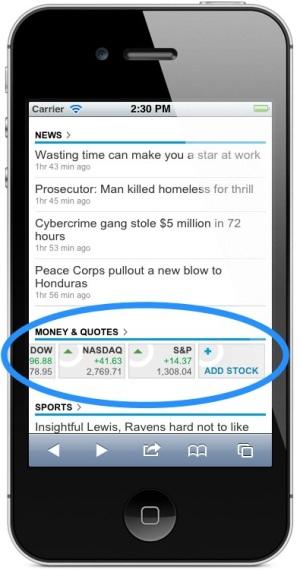 Now that you've seen the improvements, getting our updated site on your smartphone is easy, just type msn.com in your browser! Don't forget to leave us a comment below and tell us what you think.
Enjoy!
-MSN Mobile Team