MSN Money Launches moneyNOW
Catch the latest financial buzz
Back in February, we launched msnNOW, the first site of its kind to surface the latest buzz from social networks all in one place. Today, the first MSN channel is launching NOW content, moneyNOW. moneyNOW is MSN Money's new destination for smart, original and entertaining takes on the latest business and investing topics that are buzzing on the web.
Wondering how much money rapper Psy is making from his record-setting YouTube video, Gangnam style? Find out at Money Now. Did you know that gun sales soared during Black Friday this year? Or that Japan Airlines is now offering KFC on flights? Those are the kind of conversation starters you'll learn about on Money Now.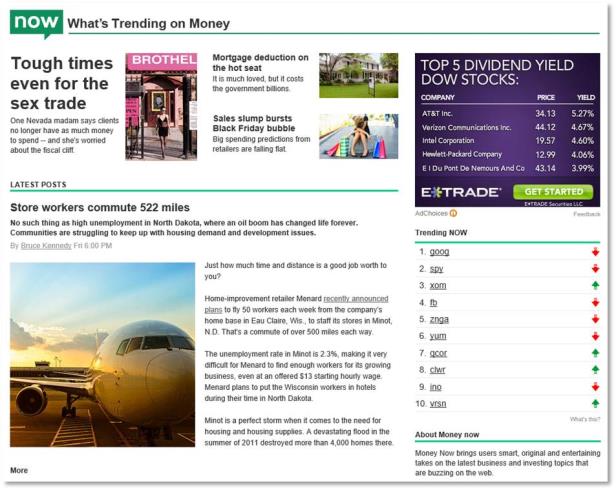 But that's not all. On moneyNOW, investors learn what companies their peers are searching for more information about and get to the bottom of controversies, like why Wall Street hates Groupon's CEO. Instead of straight earnings news, you'll find out why Tiffany may regain its lost luster. Instead of reading about Congressional budgets, moneyNOW goes right to the key question: Is the mortgage deduction at risk?
To stay abreast of the latest money trends, writers and editors review results from MSN's proprietary Demand Dashboard, which sifts data from real-time sources like Twitter, Bing and StockTwits. These results are also filtered every few minutes and displayed in MSN Money's Trending now module, which you can find on MSN Money and moneyNOW. The Trending Now box displays financial keywords and stock tickers that are hot on search and social media. The results are determined by a computer algorithm, displayed automatically and not filtered.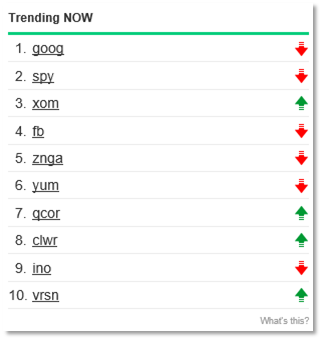 The goal of moneyNOW is to inform and engage our readers. Visit today at http://money.msn.com​/now/ and come back often.
- Amey Stone, Managing Editor, MSN Money