MSN and Rodale Launch Fitbie
New Health Destination Offers Fitness, Nutrition and Weight Loss Advice
Today, MSN and Rodale, the authoritative source for fitness, diet and weight loss content, announced the launch of Fitbie, an online destination that offers advice on how to look, feel and live better by making the right diet and fitness choices. Bringing premium content from Rodale's brands, including Women's Health, Prevention, Runner's World, Bicycling and Men's Health, Fitbie is the newest addition to the MSN Lifestyle portfolio of sites, offering advice on how to look, feel and live better by making the right diet and fitness choices.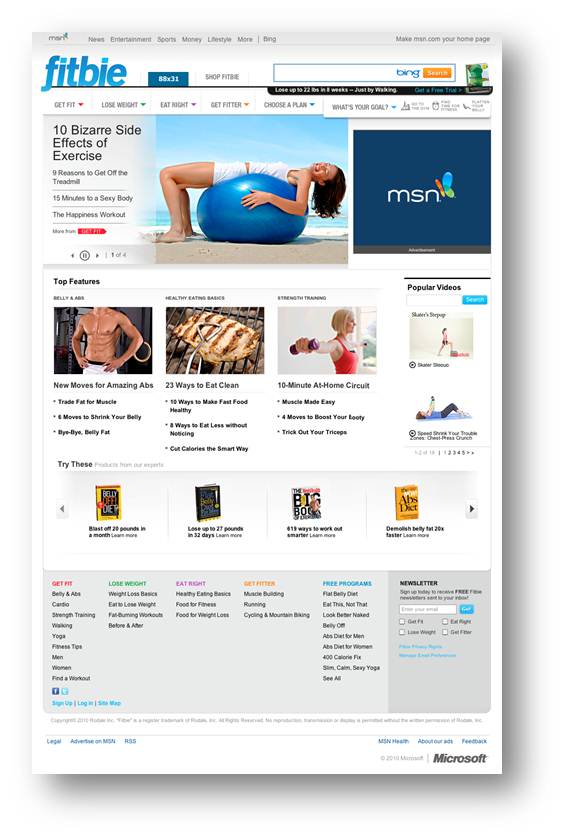 Key features include:
Leading Content: Rodale is the leading health and fitness media company with a diverse portfolio of print and digital properties that reach 70M people around the world, and a long-time trusted MSN content partner. Fitbie takes advantage of Rodale's authority and expertise to create a fresh, new diet and fitness brand on MSN.

Personalization: Fitbie offers guided and personalized information to help people meet their diet and fitness goals.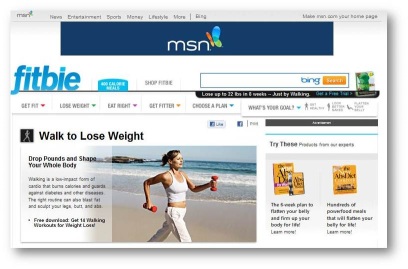 Custom Meal and Fitness Plans:

Fitbie features free two week meal and fitness trial programs, including physical assessment and interactive tools, and advice from diet & fitness experts. 
Similar to lifestyle sites Glo.com and Wonderwall.com, Fitbie will be powered by MSN and is accessible at fitbie.msn.com, as well as on the MSN home page and editorial programs across the MSN network. Access to Fitbie can also be found across Rodale magazines and online properties.
The Fitbie collaboration is the most recent one for MSN with Rodale, who has served as a trusted content provider for the site since 2003. Fitbie capitalizes on the massive MSN audience reach and the category expertise of Rodale to provide premium content for customers and advertisers.
Fitbie provides advertisers with the opportunity to engage with the diet and fitness- conscious MSN audience, offering prominent ad units and deep, rich content. Advertisers will be able to directly target their specific audience in addition to leveraging the larger opportunities on MSN Health.
Let us know what you think!
Scott Moore
Partner Regional Executive Producer, MSN