New MSN Mobile Experience Arrives on iPhone and Android
Stay in the know with the new fast and fluid MSN on iOS and Android
Need to keep up on the latest breaking news, gossip from Hollywood or see if your stock portfolio is up or down? Today, we've brought the best world and national news, stories from entertainment, sports, autos, lifestyle and healthy living, right to your mobile phone. The new MSN was built from the ground up to be fast, fluid and great for touch, whether you're using an iPhone Android or Windows smartphone.
Just enter "msn.com" in your mobile browser (Phone iOS 5 or higher/Android 2.3 or higher) and get the latest movie showtimes, stock quotes, car buying advice or how to entertain for your next dinner party.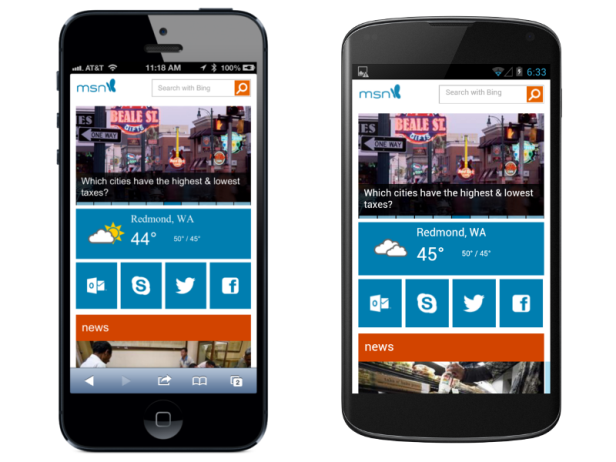 The new MSN on iPhone and Android mobile browse joins our previous Windows Phone 8 release. Now Windows Phone 8, iPhone and Android users in the United States will be able to experience one of the fastest media web sites on the web, anywhere, right on your smartphone. We've streamlined the new MSN and optimized it for a true mobile reading and viewing.
Built for Touch
The new MSN was built from the ground up with modern smartphone platforms in mind. This release includes dynamic rendering which allows support of high definition formats and various screen sizes. The MSN design and technology teams rebuilt the entire MSN experience and started with optimizing for touch and building an intuitive user experience.  You'll notice that each channel on the MSN Mobile homepage has large, swipe-able images, displaying the top stories of the day.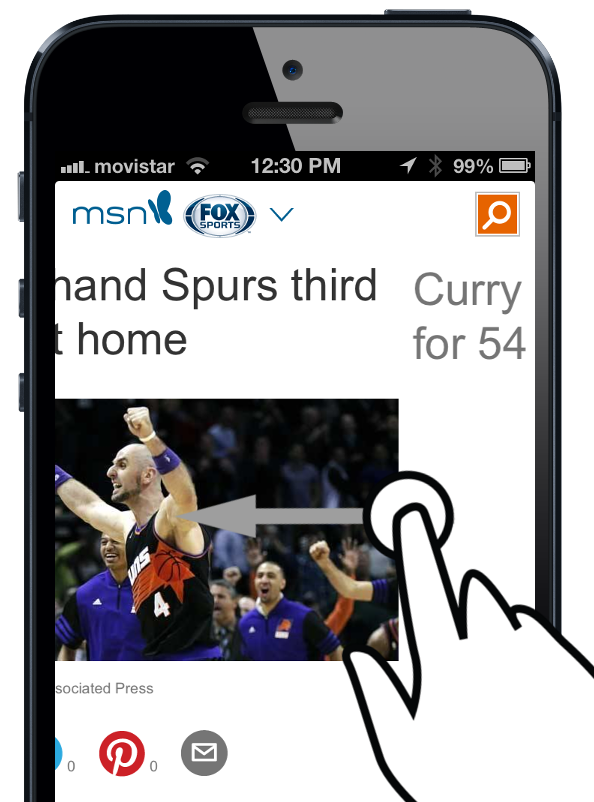 You can tap on the image to view the article or tap on the channel header to view all the top articles within each channel. Tapping the MSN logo at the top of any page will take you back to the homepage. We've organized our channels and articles to make MSN a place where you can be informed, explore and let your curiosity reign.
Staying in the know with MSN just got easier.  Now you can pin or save the new MSN to your Home Screen and when you're reading an article, you can just swipe right to read the next article in that channel. It's also easy to share your article on Facebook, Twitter, Pinterest or send it to a friend via email.
MSN at Home, Office and On the Go
Our goal for the new MSN is to be a fast, clean and organized view into the news and information that is important to you. Whether you're following your favorite sports team or breaking news, MSN News now brings you viewpoints from multiple angles and awarding winning sources (AP, Reuters and MSN's own news staff) along with what's trending on the web via msnNOW.
You get the same great content from trusted sources, no matter what device you're using. Browse sports scores, get stock quotes or find showtimes with a couple of taps. Enter "msn.com" in your mobile browser or bookmark any of the channels for quick access.  
The new MSN. Know. Now. 
- The MSN Mobile Team
MSN is dumber than a rock. How could they take away the msn mobile desktop version web page.
maybe I should just forget about them and use Yahoo as my home page. I don't see them using
tiles on their home page. that's what makes msn, msn. I can view your whole webpage at once
with tiles now can I? Stop it with the dumb mistakes!
Are you sure you want to delete this comment?