FOX Sports on MSN Mobile Kicks Off Baseball Season with New Features
Upgrade puts fans at the center of MLB action
Major League Baseball teams kick off the new season with pervading goal: Get to the World Series and be the sole team that finishes the year in a celebratory shower of champagne.
FOX Sports on MSN Mobile is celebrating the start of the 2011 season with a similar mantra: Give baseball fans the best mobile experience possible.  New upgrades to the MLB site of FOX Sports on MSN Mobile place fans who use http://extreme.mobil​e.msn.com/Sports/MLB​/ on top of the game.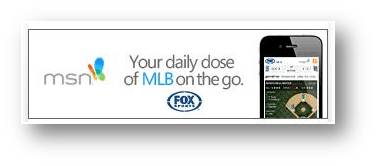 Besides slick, new swipe-able navigation, an expanding search box with auto-suggest for ease-of-use, and full-screen slide shows, video and photo galleries that are being introduced all across the MSN Mobile platform, the newly renovated MLB section has plenty to offer:
A home page that features the same in-depth analysis, breaking news and video programming as the FOX Sports on MSN computer site.
Easier, more intuitive navigation at both the top and bottom of every page, allowing users quick access to standings, other scores or whatever they want.
A new, colorful, full-screen gametrax experience that auto-refreshes, allowing users to follow a game in real time, tracking every statistic even down to the balls and strikes.
Play-by-play, box-score and recap access, so fans can drop in any time throughout a game to see what they've missed or check how particular players have done.
Plus, look for soon-to-be released features that allow users to choose favorite teams for customized display, as well as click off to specific team pages for news, analysis and more.
All told, FOX Sports on MSN Mobile users have a World Series worthy experience at their fingertips.
Mike Grady
MSN Sports