MSN Onpoint: How She Does It
The ultimate women's app is ready for download on Windows Phone, iPhone and iPad (Android coming soon)
Whether you are in a relationship or single, working at the office or running the household – we know you're busy. That's why we've built MSN Onpoint. Designed with women in mind, MSN Onpoint combines the best of women's lifestyle content from MSN and couples it with the power and convenience of Bing, creating a great way to access the content you want while you're on the go.
You barely have time to flip through your favorite magazines, let alone the time to stay on top of current and local happenings.   Wouldn't it be great if you could read up on fitness, hairstyle and beauty tips; or discover your next vacation spot all in one app?   We think so too. Every day, we handpick the best stories, recipes, exercise articles and videos from leading magazines and sites, so you don't have to.  
 MSN Onpoint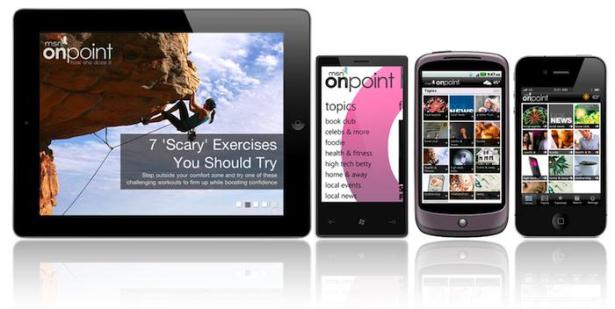 Here's the best part – MSN Onpoint is available across a breadth of devices. Visit the MSN Onpoint site to download for Windows Phone, iPhone and iPad (coming soon to Android devices.)
Featured Content
Book Club  

The kids are out the door – now what? Get new book recommendations from TODAY and the MSN Onpoint staff. Buy the book via Bing and you'll be reading in no time. All from your mobile device.

 

Celebs & More

Check the latest Hollywood gossip from the celebrity news destination, Wonderwall or sit back and watch "Hot Guys Doing Horoscopes".  Play catch up on your favorite TV with the MSN original video series "Last Night on TV".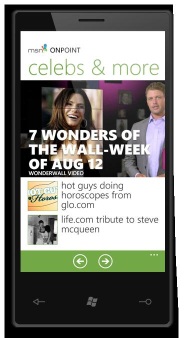 Foodie

It's 5:30 and you haven't had a second to think about dinner much less the latest culinary trends. MSN Onpoint has dinner covered.  Peruse 30-minute recipes and more from Delish.com.

 

Health & Fitness

Get fit, lose weight and eat right with Fitbie on MSN Onpoint.  Explore fitness trends, nutrition news, and expert advice that can help you look and feel your best, improve your well-being,  and pass healthy habits on to your kids. MSN Onpoint features daily stories from Fitbie and other great Rodale properties like Prevention and Women's Health magazine.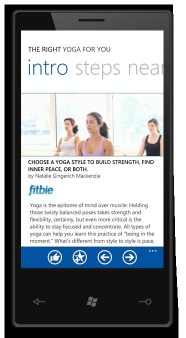 High Tech Betty 

Where's a personal tech guru when you need one? From stylish tech accessories, the latest games or turning your smartphone into a travel guide High Tech Betty helps you out. Including regular updates from Howcast, msnbc.com and TODAY.

 

Home & Away

Let MSN Onpoint help you get the most out of your home. Browse video tips with advice on decorating the house – or if you've had enough pick your next destination for a getaway. We curate content from some of the best-known names in home publishing, including Country Living, Good Housekeeping and House Beautiful.

 

Local Buzz

From fun local family activities to news happening in your neighborhood MSN Onpoint helps you plan your weekend with the latest weather, Bing events, Everyblock and news from msnbc.com.

 

Mothership

Need the best information on how to get ahead of the parental curve, raise happy and healthy kids while staying sane?  MSN Onpoint gathers up the latest parenting articles, blogs, tips and tools from Momfilter.com, MSN Lifestyle and TODAY Moms.

 

Relationships

Looking for love or just trying to find out how to keep your relationship fun and meaningful?  MSN Onpoint Relationships curates the best insights from Glo.com, Harper's Bazaar, MSN Lifestyle's Love and Relationships and Redbook.

 

Savvy

MSN Onpoint will show you the best tips from MSN Money so you can stretch a dollar and create a budget that works for you. If you're considering a career change, we'll show you new and useful ways to find job openings from CareerBuilder.com

 

Style & Beauty

Get both glamour and down-to-earth style tips, beauty advice and curated articles from Harper's Bazaar, Marie Claire and TODAY Style.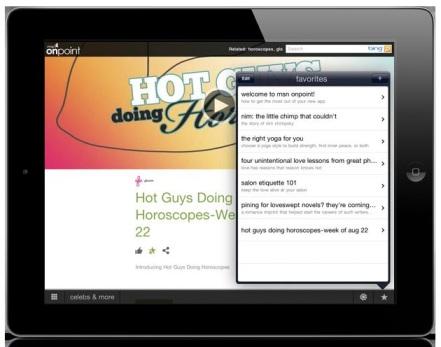 Don't have time to get to it all today? Where ever you see a star with a plus sign, just tap it to save the article on your Favorites List. Login with your Windows® Live ID to sync your settings and Favorites List between your iPhone, iPad,or Windows Phone - so you can check out what you want, when you want, where you want.  Login to Facebook to share content with your friends.  A blend of great content, the hyper-local convenience of Bing and powerful social networking features makes MSN Onpoint a must have for the busy woman.
Thanks and let us know what you think
- MSN Onpoint Team