Wonderwall Expands and Unveils New Look for Celebrity Site
MSN and BermanBraun bring celebrity site to US Hispanic market
It's been an incredible ride since we teamed up with BermanBraun to launch Wonderwall back in February 2009, and based on its continued success, we're expanding and adding a few extras to ensure you're getting the entertainment news you want, when and where you want it.
Beginning today, Wonderwall is coming to the U.S. Hispanic market, with the launch of Wonderwall Latino on MSN Latino at http://wonderwall.la​tino.msn.com  and is now available on the iPhone and iTouch.  In a few weeks, we'll be rolling out the new look to www.wonderwall.com – but we'll give you all the details about the new design today and we'll update here when we roll out more broadly.  
Wonderwall Latino will offer the latest on the lives of Latino celebrities along with news related to mainstream celebrities. The new site has vertical scroll and is aimed at increasing user engagement through new features including: voting buttons, a dedicated video page, buzz stream with breaking news and tweets, and more.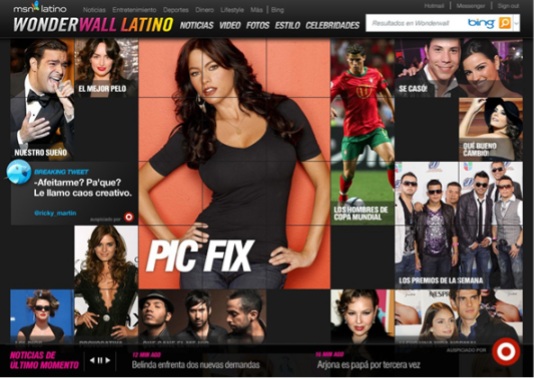 BermanBraun will spearhead the design, programming, and operations of the digital brand. MSN will provide unique content and lead the advertising efforts in partnership with Microsoft and BermanBraun.
Wonderwall is available for mobile devices at Wonderwall.msn.com, but as part of our expansion we've launched an app for iPhone and iTouch customers. The Wonderwall app isn't just a list of headlines, but offers the same rich and interactive wall experience you see on the Web – even allowing you to follow your favorite celebrities on twitter within the app. To download the app visit the App Store.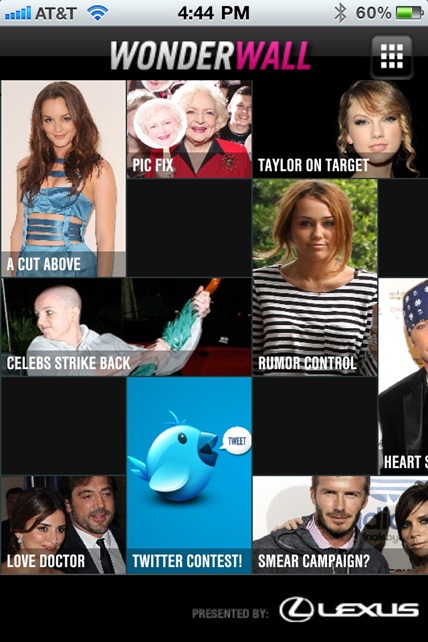 BermanBraun and MSN have a long standing partnership, launching Wonderwall.com in February 2009. Wonderwall has become one of the top celebrity online news destinations, reaching an average of 11.3 million unique users and 337 million page views a month. Most recently, MSN, BermanBraun and the MSNBC Digital Network sites unveiled BTLWY , an original destination designed to go beyond policy and polls and explore the celebrity side of politics. Additionally, alongside Hachette Filipacchi Media U.S. (HFM), MSN and BermanBraun launched Glo.com, an online lifestyle experience that debuted second in the lifestyle category but even more impressively was first in Page Views. The expansion and redesign of Wonderwall aims to build on this success.
 Scott Moore – Partner Regional Executive Producer, MSN