Introducing MSN for iPad
Stay in the know with MSN wherever you are (including the couch)
Today we are launching MSN for iPad in the US. Available via the iTunes App Store, MSN for iPad introduces a beautiful way to stay in the know with MSN. It's all your favorite content reimagined as an online magazine that you can take with you and access anywhere. Relax, explore and keep up with your world with a swipe of a finger.
Explore MSN
The MSN channels, you know and love are displayed on the rich frontpage, including:
News:  Stay in the know with breaking news and video from MSNBC.com.
Sports: Find the latest stories,  predictions and award winning news on your favorite teams from Foxsports.com.

Entertainment & Celebrities: Browse movie reviews, read about your favorite musical acts and more in the entertainment section. Stay up to date on the latest celebrity news and gossip from Wonderwall.

Editor's Picks:  Explore the best content MSN has to offer hand-selected by our editorial team.
Video: With a tap of a finger you can watch the most popular videos on MSN.
Money: From financial advice to savings tips, stay up to date on your money matters. 
Living: Whether you're interested in celebrity fashion, the latest beauty trends, or budget solutions for your family, MSN Living has always been your go-to destination with great content from your favorite print brands.
Autos: Get car information and expert advice from MSN Autos while you're on the go.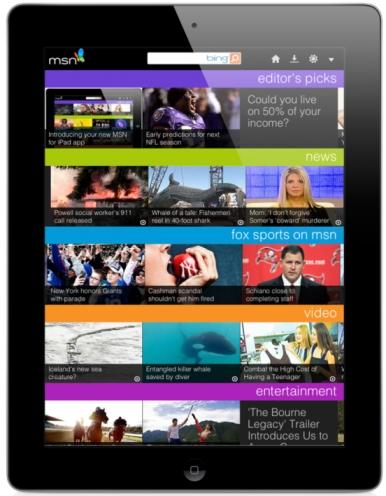 Easy to Use
The enhanced interface allows easy swiping to find your favorite articles and renders perfectly whether you prefer landscape or portrait orientation.  Easily update the content by pulling down the homepage grid for quick refresh to get more of your favorite articles.
No Web Connection, No Problem: Take MSN Content with You
Enjoy your content on the go, even when you are not near a wireless connection with offline mode. Simply enable offline mode from the arrow on the top right of the menu bar to access MSN anytime, anywhere. If you're looking to engage more deeply, Bing is built in so you can easily search the web for more content that interests you.
Streamlined Sharing
Easily share interesting stories with friends on Facebook and Twitter, or email a link for their enjoyment. Hotmail and Windows Live Messenger are easily accessed for your convenience so you can connect all the products that matter to you.
Circle and Search with Lasso
Today, it can be somewhat painful to search on a tablet. With that in mind, we've included a feature we call Lasso that lets you circle and search in just two steps.  Find a word or phrase that you want to know more about, just hold the left or right margin with your thumb while you circle the word or phrase and MSN for iPad will launch a search in Bing.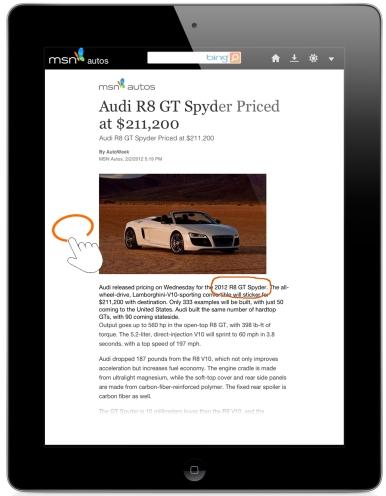 Swipe-Through Slideshows and Photo Galleries
Photo galleries and slideshows come alive in the MSN interface,   and all of the video content selected by our editors for your enjoyment is formatted to play just for iPad.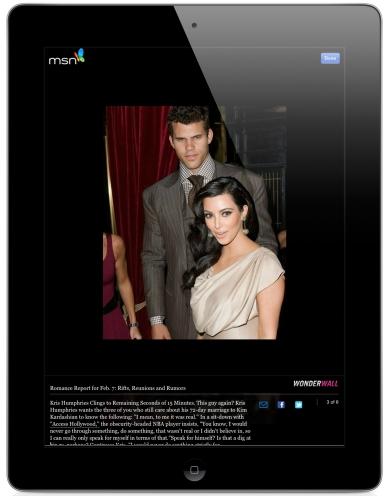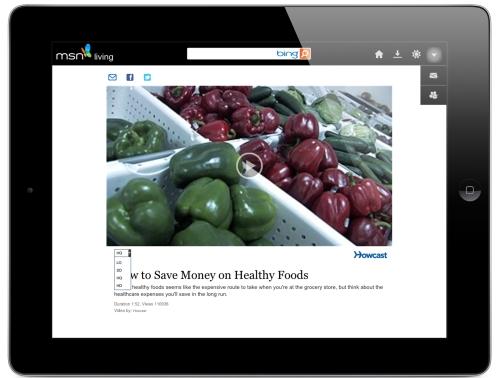 The MSN for iPad App is available today in in the US. It was previously available for users in Canada, Germany, France and the UK.
MSN for iPad. Try it now.
-          Eva Corets, MSN Mobile
Are you sure you want to delete this comment?